Pipes SAW
Pipe Length 6-16 m (as standard and special lengths up to 24m)
Outside Diameter 219.1 – 3048 mm.
Wall Thickness 4 – 26 mm.
Raw Material hot rolled steel coil
Welding Process submerged arc welding
Production Standards
The both plants are planned mainly for the production of the pipes in API standard, also manufacture pipes in accordance with AWWA, DIN,BS, ASTM and Turkish Standards to serve to the petroleum, gas, waterline projects and construction industry. Noksel supplies spirally welded steel pipes in the following standards according to usage areas.
Petroleum and Gas Line Pipes: API 5L, ISO 3183, TS 6047, DIN 17172, GOST 20295, EN 10208-2
Water Line Pipes: EN 10217-1, DIN 1626, AWWA C200, DIN 2460, BS 534, UNI 6363, EN 10224
General Purpose Pipes: BS 3601, DIN 1626
Piling Pipes: ASTM A 252
Pipe Joints and Specials: AWWA C208, BS 534
Quality Control / Assurance
Noksel, has a quality control system including all production processes starting from raw material and continuing with welding wire and flux till to transportation. This system is managed by a computer based program called SAP, which prevents human error in a great extend.
Noksel, by establishing a detailed Quality ISO 9001:2000, Enviromental ISO 14001:2004, Health and Safety OHSAS 18001:1999 management systems aiming to be a leader in its own market competition as a major principle.
Quality Control is Noksel's one of the most important function that all the required tests and inspections are carried out in compliance with the customer requirements and related standards by using modern inspection and testing equipments.
Automatic Ultrasonic Inspection
Hydrostatic Test
Radioscopic Inspection
Off-Line Ultrasonic Inspection
Manual Ultrasonic Inspection
Magnetic Particle Inspection
Liquid Penetrant Inspection
X-Ray Film Radiographic Inspection
Dimensional Inspection
Mechanical Laboratory Tests

Tensile Test
Guided Bend Test
Charpy Impact Test
Hardness Test
Chemical Analysis
Metallographic Inspection
Drop Weight Tear Test

Coating Laboratory Tests

Glass Transition Temperature Test (DSC- Differential Scanning Calorimeter)
Melt Flow Index Meter
Cathodic Disbonding Test
Indentation Hardness Test
Polyethylene / Polypropylene Adhesion Test
Polyethylene / Polypropylene Elongation Test
Transverse Electric Resistivity Test

Pipe Joint Details
The following joint details can be selected by considering the utilization purpose and the dimension.
Welded Joint:: he most widely used type for the joining of steel pipes. Steel pipe is relieved with bevelled ends which are made with special equipment in compliance with the relevant standards.
Spherical Socket Joint: Provides the possibility of a rotation 10 degrees at the pipeline without the utilization of any special fittings. Steel pipes are welded from outside after proper erectioning according to required angle.
Spherical Socket Joint with insulating sleeve: has same features of previous one adding saving of internal lining. Mainly used in Italian market.
Spigot and Socket Joint: Especially used for the steel pipes inside coated with cement mortar. Steel pipes are welded from outside after erectioning.
Flanged Joint: The special manufactured flanges are welded to the ends of the pipe and then jointed with bolts.
Lining and Coating
Air, water, soil and chemical substances and corrosive mediums effect the steel pipe as they effect everything. This effects can be eliminated by coating and lining of the pipe with suitable materials.
Noksel, believing the importance of the continuous high quality and good workmanship, offers 3 layer extruded Polyethylene, Epoxy, Bitumen, Coal-Tar Enamel and Cement Mortar coating and lining facilities to its customers.
Surface Preparation: Prior to the application of the coating, the surface of the steel pipes must be cleaned to make them free of impurities. For this purpose, internal and external surface of the pipes are shot-blasted to a standard degree of clean Sa 21/2 with a special care.
External Coating
Epoxy Coating: AWWA C-210, NFA 49709, TS EN 10289
Polyethylene Coating: DIN 30670, NFA 49710, TS 5139
Polypropylene Coating: DIN 30678, NFA 49711
Bitumen Coating: TS 4356, DIN 30673, BS 534
Coal-tar Enamel Coating: AWWA C-203
Lining Coating
Epoxy Lining: AWWA C-210, NFA 49709, TS EN 10289
Bitumen Lining: DIN 30673, BS 534
Cement Mortar Lining: AWWA C-205, BS 534
Transportation
Steel pipes after being manufactured completely are loaded with special apparatus used for the protection of the pipes and coatings during the loading operation. Transportation of pipes by vessels according to the API 5LW Recommended Practice for Marine Transport by Barges and vessels, handling and storage procedures are also based on API related customer requirements. Noksel's factories are mainly available for the land, sea and railway transportation due to their proper locations.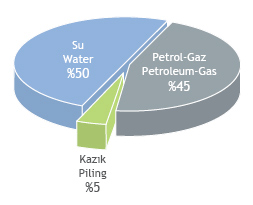 Utilization Areas of Steel Pipes:
The improved techniques and materials of today for the protection againts corrosion had also supplementary assistance to steel pipes for having longer lifes. Therefore, together with the other superior properties mentioned below, steel pipes have the advantages for usage purposes listed below among all other types of pipes.
Distribution of Manufactured Pipes According to Utilization Areas
Advantages:
High Strength
High Impact and Pressure Resistance
High Carrying Capacity
Stability and Long Life
Elasticity
Ductility
Formability
Usage:
Petroleum Pipelines
Gas Distributing Pipelines
Water Distributing Pipelines
Piling Purposes
Piles Industrial Pipelines
Steel Structures
Pressure Air Pipelines
Refineries
Transportation of Liquid Hydrocarbons
Transportation of High Temperature Water
Storage Application of Hydrocarbons